The article below, written by Sam Raudins of Albany Business Review, introduces the Next-Step Stool to the media. Access the full article at: https://www.bizjournals.com/albany/inno/stories/news/2022/10/16/the-next-step-stool-aha-solutions.html
Editor's note: Welcome to The Pitch, a new series featuring early stage Capital Region startups. The goal is to familiarize readers with up-and-coming ideas and entrepreneurs, showcasing the different levels of creativity in upstate New York. Responses are provided by the company via questionnaire, and they have been edited and condensed.
---
Aha! Solutions Inc. developed a a new kind of step stool that hooks onto surfaces for stability and can be used by children. The Next-Step Stool is a compact step stool with no assembly required, adjustable height and anti-tipping technology to prioritize safety for any age.
Aiming to raise an additional $95,000 in capital to meet its goal, the company is a finalist in FuzeHub's 2022 Commercialization Competition taking place in Buffalo Oct. 25-26. A crowdfunding campaign is also set for 2023.
---
The product: The Next-Step Stool
How it makes money: The company is currently taking pre-orders on its website and hoping to deliver the product by June 2023.
Size of the market: The total global step stool market is projected to reach $1.2 billion by 2028, with a compound annual growth rate of 4.5%. This translates to a $953 million global market for 2023. Considering that North America constitutes 25% of the market, and folding step stools are 30%, the product's serviceable addressable market is about $71 million.
Competition: Little Partners, Guidecraft, Naomi Home, Cosco, Ikea
Competitive advantage: Its proprietary anti-tipping design seeks to enhance safety. It also has options to use one or two steps for customizability. The Next-Step Stool intends to grow with families to accommodate changing needs. It is ideal for one child as he/she grows, many children of different ages or adults of any height.
Its footprint of 4 inches deep when fully stowed aims to make moving and storage easier. Weighing less than 10 pounds, the Next-Step Stool is 50% lighter than traditional learning towers that weigh over 20 pounds.
Business/technology it could disrupt: Home and kitchen; step stools; children's step stools; pediatric offices; child care and day care facilities; nursing homes or elderly care homes.
Founders and their background: Sara Hasan, founder and CEO, is a pharmacist by profession (Pharm.D.). Her experience includes working with a top health care company and as a pharmacy manager for over 10 years.
Investors: None
Capital raised: $105,000
Capital sought: $200,000
Ideal exit: Acquisition by Graco, Gerber, or similar well-known children's furniture brand
---
Closer Look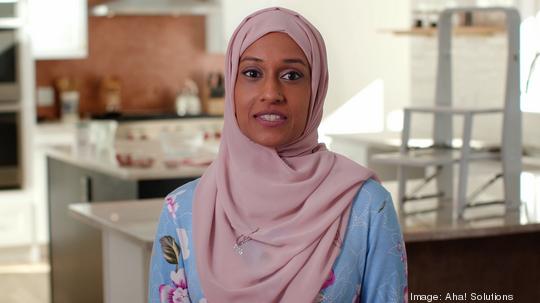 Aha! Solutions
Company: Aha! Solutions, Inc.
CEO: Sara Hasan
Headquarters: Mechanicville
Year founded: 2019
Employees: None
Website: next-stepstool.com